Before the Johnsons, Tinsel, and Battleground were ever a thing, there was "Everyday People" in the early 2000s. It was a show well-loved for its relatability and its famous theme song. 
It had some of the most hilarious characters, some tears and was filled with intrigue. The show focused on the lives of members of a typical middle-class family and their neighbours in Lagos. Each episode dealt with differing real-life issues that were prevalent in society at that time. The soap opera produced by Tajudeen Adepetu's Consolidated Media Associates aired every Sunday on Africa Independent Television (AIT). It was put to rest several years ago but many 90s kids will tell you how much they loved it and burst into the theme song if you let them.
The show gave us some of the most loved people in Nollywood, so we thought it was worth checking in on them. To see what everyone's been up to since "Everyday People" ended, read on!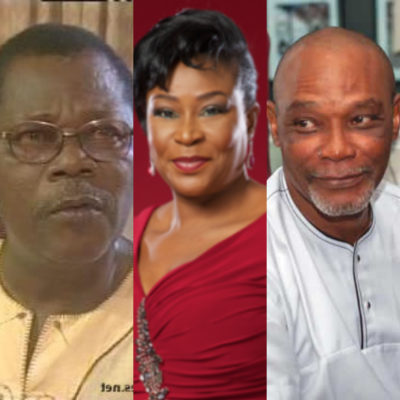 Sam Loco Efe: After leaving the set of "Everyday People", Sam Loco went on to feature in numerous movies and edited some of them. He was getting ready to retire at the age of 66 in 2011 when he died of an asthma attack in his hotel room.
Carol King: Since saying goodbye to "Everyday People", Carol has gone on to feature in other series like "Edge of Paradise", "Tinsel" and "Blaze of Glory". She has also appeared in movies like Tope Oshin's "Journey to Self" in 2012 and Kunle Afolayan's 2017 movie, "The Tribunal". 
Norbert Young: After leaving "Everyday People" behind, the veteran Nollywood actor went on to take a major role in "Edge of Paradise" alongside his former co-star, Carol King. He also appeared in "Tinsel" and more recently, "Skinny Girl in Transit" as Tiwa's dad. 
Ify Onwuemene: After "Everyday People" came to an end, not much was heard from the talented actress. However, in June last year, a video surfaced of the actress asking for Davido to come to sing for her. She was sick and was said to have cancer and undergoing treatment.
Olumide Oworu: He started his career on the set of the soap opera at the age of 6 as 'Wole Johnson'. 18 years after he began acting on the show, he is now one of the most famous people that left the show. He plays the role of 'Tari' on "The Johnsons" and 'Weki' on "Shuga Naija". He has also appeared in movies like "Soldier's Story", "The Patriot" and "Staying Strong".
Anthony Ogbetere: Big Tony as he is fondly called as stayed in the entertainment industry since "Everyday People" ended but has taken up different roles. He is a comedian, MC and a host on Superscreen TV. He has continued to feature in Nollywood on a sitcom called "The Squatterz", where he plays the role of 'Papa'.
Ejiro Okurame: Ejiro immediately moved on from "Everyday People" to another popular sitcom, "Clinic Matters", playing the role of 'Nurse Theresa'. She also featured in other movies like "My Love My Sorrow" and "Ultimate Risk". In recent times, she has been working behind the camera as a producer.
Ignis Ekwe: "Everyday People" was arguably his most popular series. After the series ended, he made a career change to the education sector. He was a lecturer at the Department of Mass Communications, Auchi Polytechnic In Edo State. In 2018, his daughter, Susan Ekwe and niece, Yvonne Jegede announced that he died after a brief illness.
"Everyday People" was a national treasure in its prime. It was one of the series families looked forward to and was a perfect bonding activity for families across the country. We remember cast members who have died and hope that those who need some help will get well soon. We are also looking out for all the cast members still acting to see what they are going to do next.
The post Where is the cast of Everyday People Now? appeared first on Nigerian Entertainment Today.